In March of 2022, we excavated Cave 61 at Qumran. The cave is situated near the top of a mountain that is just north of, and adjacent to the waterfall at Wadi Qumran. The cliff descends over a thousand feet to the wadi below. During the rainy season, water flows over the cliff and then makes its way to Yam HaMelach, "the salt sea," (otherwise known as the Dead Sea).
In biblical times, water was channeled from this waterfall to a watercourse that ran along the side of the mountain. This emptied into another channel that made its way down to the cisterns in Qumran. The engineering that went into making this waterway was amazing. We passed over the channel everyday on the way to the cave. It is quite remarkable and the view is nothing short of breathtaking. The lower part of the trek to the cave only takes about 10 minutes, although the last part of the path is a bit steep and added a few more minutes.
Below: Cliff Line Above the Qumran Archaeological Site
The Waterfall Above Qumran
PROJECT QUMRAN
Mystery of the Man-Made Tunnels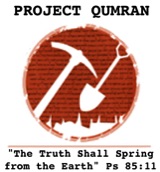 Archaeological
Excavations in the Judean Desert
Wilderness & the.....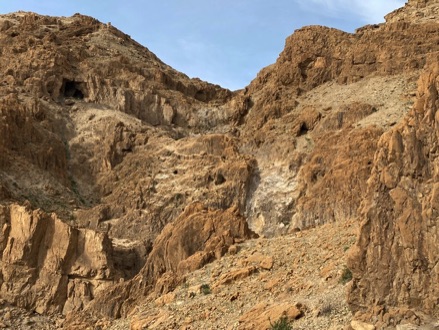 Cave 61 is interesting in that it is quite large in comparison with many of the others in the area. It forks into at least two other chambers.
Many pottery shards were found the first day including a handle from what may have been a scroll jar, and the neck of an oil bottle from the Second Temple Period. The next day was much the same with a variety of artifacts being unearthed, including one very special discovery, which was a piece of material that was typically used to wrap scrolls for storage before placing them into a jar. The actual analysis of the material must be performed in a lab.
We were privileged to have a very special crew on this excavation . Everyone worked hard and it was exciting to see the enthusiasm of everyone involved. Volunteers and staff on this excavation included: Chaim Hayman, Ed Truitt, Larry Borntrager, Zvika Kornfeld, Abby Cora Bieler, Carl Jacobs, Bat-Zion Susskind Sacks, Zev Macklin and of course Shoham, Yonatan, Shaked, Oren, Shlomi & David.
Below: Carl taking a well deserved break from working in the cave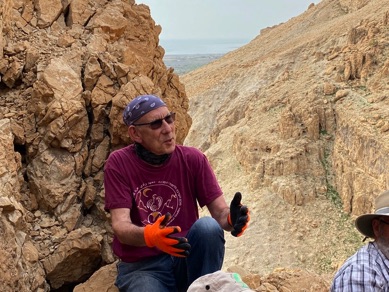 Below: Bat-Zion and Shoham find an area with pottery shards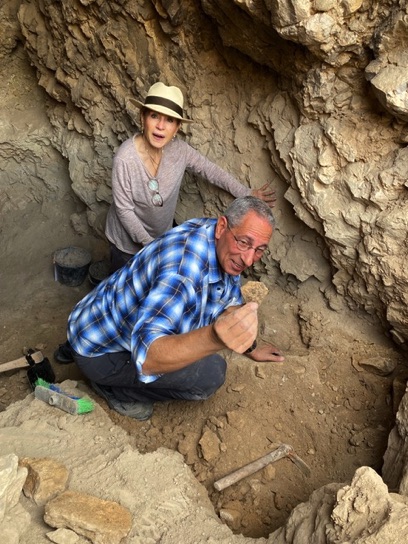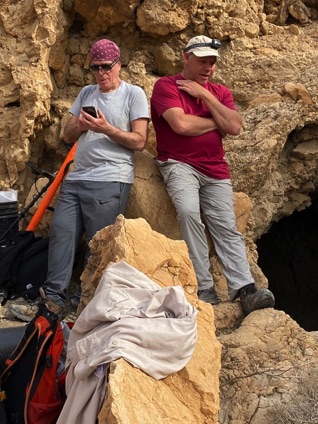 Below: The two masters of mischief, Shlomi and Oren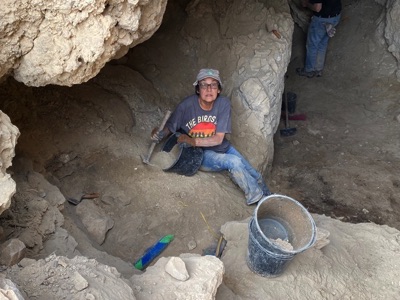 Below: Abby Cora Bieler filling a bucket to be sifted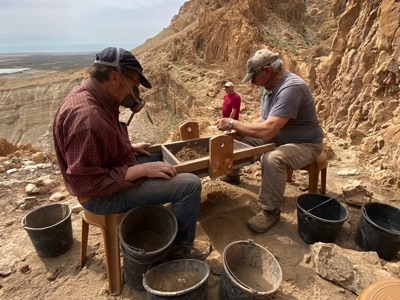 Below: Chaim and Larry sifting buckets of debris from the caves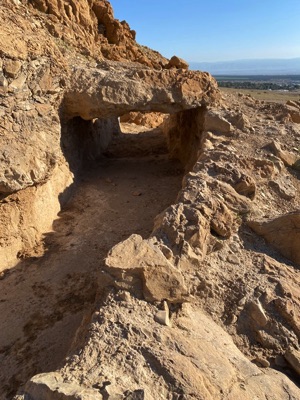 Below: Photo of the Watercourse Below Cave 61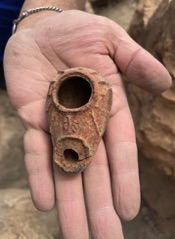 Above: Intact Oil Lamp Found by Bernard Hasten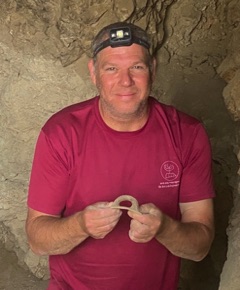 Oren Shows the Handle of a Jar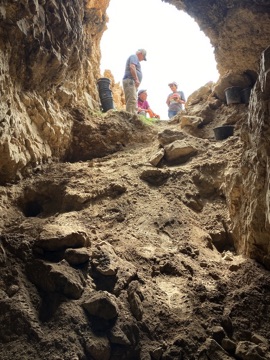 The Cave at the begiing of the Excavation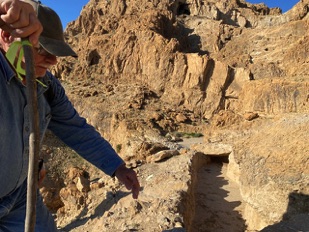 Above: Larry crosses over the watercourse on the way to the cave