Projects Planned for 2022
1) Return to the North Opening at the Cave of the Column and excavate below the notch.
2) Drill exploratory holes in the walls of Tunnel No. 1 at Hyrcania
3) The excavation of a new cave found in Qumran.
The above list represents a few of the projects we are sponsoring. If you would like to become a partner or can help us fund one or more of these projects, or you just want to participate in an excavation, please contact us.
The Teomot Cave Complex: 1967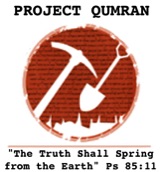 PROJECT QUMRAN
Mystery of the Man-Made Tunnels
Archaeological
Excavations in the Judean Desert
Wilderness & the.....