Projects Planned for the Period of March to May 2020
1) Return to the North Opening at Teomot for Remote Sensing with Ground Penetrating Radar: More Info
2) Remote Sensing of (Man-Made) Tunnels I and II in the Desert Wilderness of Judaea and...
3) Begin the excavation of Tunnels III and IV: More Info
The above list represents a few of the project is sponsoring. If you would like to become a partner or can help us fund one or more of these projects, or you just want to participate in an excavation, please contact us.
The Teomot Cave Complex: 1967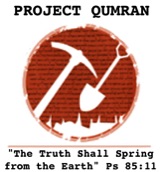 PROJECT QUMRAN
Mystery of the Man-Made Tunnels
Archaeological
Excavations in the Judean Desert
Wilderness & the.....